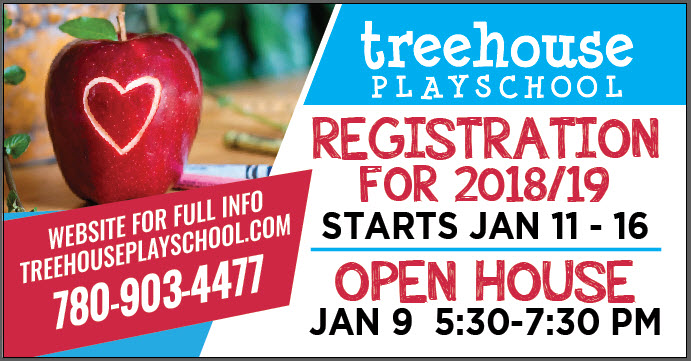 It seems so early to be talking about next year already, but Registration for the 2018/2019 school year starts in January . . . . it is coming up quickly!
We will be hosting two Open House dates for those interested in joining Tree House.  We will have a daytime Open House at Marie Poburan and Vital Grandin schools on December 19th from 1-3 p.m..  Our second Open House will run on January 9th at all three locations – Marie Poburan, Neil M. Ross, and Vital Grandin – on January 9th from 5:30-7:30 p.m.  Feel free to bring your little ones and siblings, come meet our preschool teachers, and explore the classroom spaces!  It is a great opportunity to ask any questions you may have about our programs or registration.  We look forward to meeting you!
Registration starts on January 11th for Tree House alumni and on January 16th for new families joining our program.  Please click on the "Registration" link above for full information on dates and times.
IMPORTANT REGARDING CURRENT YEAR REGISTRATION: There are a few spots currently available in AM and PM classes for January 2018 start. Please click on the classes link above to see current availability or call 780-903-4477 and speak to Jenny about finding a spot for your little one as soon as the New Year!  Please forward information to those you think may wish to join us this school year!
Our programs are located at:
Marie Poburan Elementary School – 100 Sir Winston Churchill Avenue, St. Albert
Neil M. Ross Elementary School – 60 Woodlands Road, St. Albert
Vital Grandin Elementary School – 39 Sunset Boulevard, St. Albert
email: stalberttreehouse@gmail.com
Jenny: 780-903-4477